Create professional employee photos automatically in Eppelborn
Reading time approx. 4 minutes.
You can find the latest and most reader-friendly version of the site here.<-- bitte KLICKEN!
Would you like to keep your inventory of employee photos for one of the following areas up to date?
the CRM
Exchange
ActiveDirectory
Employee IDs
Flyer
Passport photos for travel planning
Intranet
Outlook
Then a photo booth is from Photo Booth Deluxe worth a moment of your time.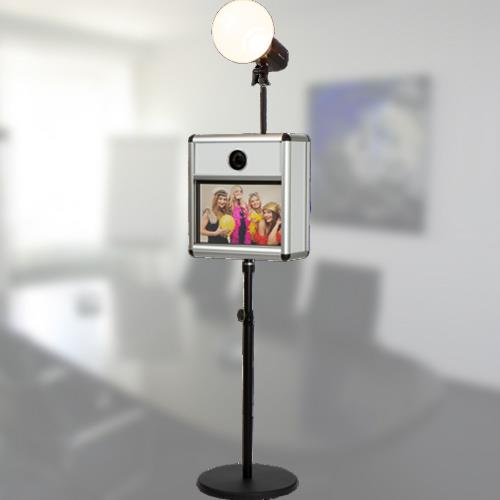 The use of a photo box for employee photos
Die Mitarbeiter in Ihrer Firma erhalten die Chance an einem fixen oder an regelmäßig verändernden Standorten (z. B. im Speisesaal bzw. der Betriebskantine oder Personalabteilung) das individuelle Mitarbeiterfoto zu fotografieren und/oder auf den neuesten Stand zu bringen.
It is essential that this takes place in the form of a self-service process and that additional personnel are not needed on site.
You give your employees the chance to identify themselves to 100% around the clock with their own employee photo.
Die Personalfotos können dabei automatisch aufs optimale Format zugeschnitten, von störenden Elementen im Hintergrund gelöst und optional in verschiedenen Formen und Seitenverhältnissen gespeichert.
Our proposed solution
You place a photo box set up for employee photos in your company (e.g. in the Katine, at the ID card or at the reception in a relaxed corner.
The space requirement is approx. 1.5m x 1m.
Dort können sich die Angestellten vergleichbar wie bei einem Passbildautomaten vor die Fotokiste setzten und am Bildschirm die Anleitung für die nötigen Aktionen sehen.

Der Monitor dient als Touchbildschirm zur gleichen Zeit als Eingabeterminal für die nötigen Infos wie z. B. ID, Rufname, Nachname und/oder Geburtsdatum.
Alternativ kann die Photobox auch so programmiert sein, dass die Daten direkt vom Betriebsausweis ausgelesen werden. Die so erfassten Infos sind dann darauffolgend Baustein des Dateinamens des aufgenommenen Mitarbeiterfotos.
Optionally, a disclaimer screen with a confirmation option for internal / external use of the employee report can also be displayed.

Im Anschluss an die Fotografie des Mitarbeiterbildes kann der Hintergrund des Bildes automatisch gegen einen oder diverse von Ihnen vorgegebene Backrounds ausgewechselt werden. Ebenso wird bei jedem Foto der Kopf festgestellt, auf eine vorgegebene Größe skaliert und auf dem finalen Bild an einer definierten Position positioniert.
Die Aufnahme wird in einer von Ihnen festgesetzten Größe und Bildseitenverhältnis (z.B. quadratisch für das ActiveDirectory) gespeichert. Über den Namen der Datei findet ein Abgleich zwischen dem fotografierten Foto und dem hausinternen Mitarbeiterdatensatz statt. Gerne helfen wir Ihrer IT-Abteilung bei der Klärung der Verbindung.
As an extra option, a biometric check and an adaptation to a biometric ID photo are available.
The image output can take place synchronously in some formats.
So you always have the best photo for
Instagram, WhatsApp & Co, Outlook, LinkedIn, Twitter, Facebook, XING, das CRM-System
etc. within easy reach.
Logischerweise kann jede Datei auch mit Unternehmeslogos "personalisiert" werden und/oder der Name und die Position des Arbeitnehmers können unmittelbar mit auf dem Bild stehen.
Advantages of automatic photo processes for professional employee photos
The name of the employee can also be digitally added to the picture without manual rework.
optional data acquisition before or during the recording sequence
optional branding with your background and logo.
Employee photos according to your corporate design
RAW data can also be saved on request
Self-made professional staff photos in the highest DSLR quality and studio lighting technology
minimal labor
the employee photo box is noticeably cheaper than a booked photographer
How does the employee get the photo?
Damit nicht nur das CRM System oder das ActiveDirectory in den Besitz der neuen Bilder kommt, stehen für den Mitarbeiter drei verschiedenartige Wege zur Verfügung um sein Foto auch als Datei zu bekommen.
Download from an online gallery
Am Schluss der Sequenz wird ein Code am Touchscreen eingeblendet oder gedruckt über den der Mitarbeiter seine Originalaufnahme sowie die unterschiedlichen Versionen für die unterschiedlichen Zielsysteme downloaden kann.
Download via QR code from an offline gallery
The photo box provides its own WLAN that the employee has to dial into.
Zum Schluss der Sequenz wird ein QR-Code am Screen eingeblendet. Dieser QR-Code führt zu einer Offline-Galerie aus der sich der Mitarbeiter seine Aufnahmen herunterladen kann. Im Unterschied zur Onlinegalerie klappt dieser Weg nur in direkter Nachbarschaft der Foto Box.
Enter the email address at the end of the photo sequence.
In this case, the captured photo is immediately sent to the employee's email inbox.
Alternative uses
In order to make the best possible use of your investment, you have the following options:
Use at trade fairs to create personalized "flyers"
Production of biometric passport photos and ID photos
Employee photos (as described above)
Photo attraction at customer events & meetings
Use at employee parties (summer party, Christmas party ...}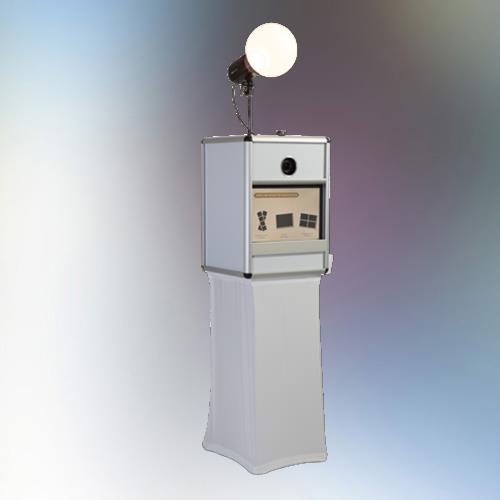 The need for investment
Die Investition für den Einkauf einer so optimierten Fotokiste beginnt bei ca. 4.400 € zzgl. MwSt und lohnt sich so schon für Gesellschaften ab ca. 100 Betriebsangehörigen.
Of course, there is also the chance to test the system in advance on a rental basis for € 650 + € 1 / employee photo plus VAT per week.
1/2 of the rent will be credited to the later purchase if the photo box is kept directly.
references
Since the system was introduced in 2019, two systems have been permanently installed in Germany and Zurich.
Both at WWZ AG in Switzerland and at Haufe Lexware, the system is very well received by employees.
If we are able to arouse your curiosity for automated employee photos, then register at 09331 8021990 or send an email to office@photobooth-deluxe.de.